I was tagged by my good friend gazza .
The first thing you have to do is post the rules. So, here they are:
1. You have to post these rules before you give the facts.
2. You must list one fact that is somehow relevant to your life for each letter of your middle name. If you don't have a middle name, use the middle name you would have liked to have had.
3. At the end of your blog post, you need to choose one person for each letter of your middle name to tag. Don't forget to leave them a comment telling them they're tagged, and to read your blog.
I have decided to make the exception of tagging any. Anybody who is willing can take this up.
My middle name is jac. Ha! Ha! See, it is so convenient too !!!

Now the first letter of my name is J… and what I first remember as usual is my own name.
Now what am I going to write about my name ????
Let's say that it is not only my name and that I have got something that comes to my mind from my childhood…a fall that should have killed me.
Here is the story of Jackfruit which start from the letter J

During the times on vacation I spent with my late valiammachy (my grandma) in a remote corner of Kerala, I was deprived of going alone anywhere with out her escorting me as she believed that I am a 'kappiri themmadi chekkan( naughty African imp), bold enough to look and scare even lions, back at my home country.
Well, I didn't tell her that I am also afraid of lions if a lion happen to look straight at me.

One day she showed me some very large green and fat thing hanging from a tree in her farm and told me that it is a fruit, and is one of sweetest fruits on earth. She told me that it is called chakka.
That was the biggest fruit I have ever seen.


I demanded to have it tasted immediatly and she refused saying that I have to wait a day or two to allow the tree to be dry, so that the coconut-plucker staying nearby can climb on it to fetch one of those sweet things for me to taste.

I am a spoiled brat and I was not happy with that attitude. I am an Aries kid.
I will get what I wanted by hook or crook.

While she was busy with servants in kitchen I was out looking over the tree with the numerous fruits on it.
I found her fears baseless, as the tree bark looked pretty dry and I decided to make a go for the tree, thinking that I will surprise my valiammachy with my African climbing skill.
I was on the first branch with a number of fruits hanging down, that I realized that I didn't think of a knife, to cut of the fruit from the tree as the fruit was firmly attached by a strong spine with the bark. I hesitated a moment, thinking if I should call out my valiammachy for help. But my pride won't budge.
This little brave jac from Africa, firmly holding on to a branch with one hand, tried to snatch off the heavy fruit with the other hand.
I succeeded in sheering off the fruit but I was totally unaware of the weight of that damn thing and I lost my hold on the branch… off I go with the chakka, landing on my back, that took my breath away for a moment.
I was stunned till I heard my valiammachy's voice almost pleading and crying "ente mone, ente ponnu mone" (my son! my dear son).
I was afraid to face her, but I got up very slowly making sure that my limps are ok, and managed a smile at my valiammachy.
Seeing my smile, I saw her facial muscles transforming from fear to anger.
She moved so fast for her age and caught both my hands in one hold with her ebony fingers and shouted "nintte appan enne kollum ariyamoda kappiri" ? (That time I didn't know the meaning but it meant "you African imp, don't you know that your dad will kill me ?)
I thought she was going to hit me and I closed my eyes... instead I felt her warm kisses on both my cheeks and tears were rolling non stop from her eyes.

My valiammachy later said that she heard only one heavy sound, not two… meaning that chakka might have fallen on me. LOL
So there my story ends !!!
The jackfruit is a huge, spined oval fruit that is believed to have been first cultivated in Indian rainforests.
I think that it is not true because there is mention of jackfruits described in minute detail from travelers of ancient times who passed through Zanzibar, Africa.
Any ways, it is largely grown in tropical or close to tropical climates. It still is found in many parts of India, as well as in most of Southeast Asia. In the Americas, the jackfruit is largely grown in Brazil. The northern parts of the US and all of Canada are generally too cold for young jackfruit trees.
The second letter on the list is A and I am relating it to some thing beautiful.
What about beautiful eyes?
But there again, the word 'Eye' doesn't start with letter A. What about Almonds? It starts with letter A but it doesn't have any relation with eyes.
But yes, people say that a perfect eye will take the shape of an Almond.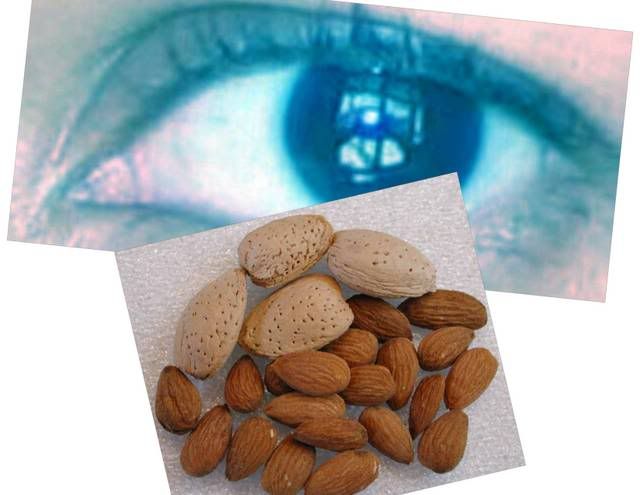 I have been to many countries in the past.
But perfect almond shaped eyes that I have seen was from a place called Hilla in Iraq.
There you can tell if a woman is from Hilla, by just looking at her eyes. The female species from Hilla are graced with Almond shaped eyes.
Don't mistake me please !
I know that all of you may have even more beautiful eyes than them, but I haven't seen any of you !!!! Almonds are not strange to any of you.
Almonds are normally a favorite Mediterranean specialty.
But they are grown in many countries like Spain, Greece, Italy and Afghanistan Iran and even in California in the United States. But the most sought after almonds are considered to be from Iran.
Almonds are nutritionally dense – a quality emphasized in the government's Dietary Guidelines. Independent analyses show that almonds are the most nutritionally dense nut, whether compared calorie per calorie or ounce per ounce. The Dietary Guidelines for Americans 2005 encourage Americans to choose nutritionally dense foods – that is, to get the most nutrition possible out of the calories you eat. A one-ounce, 160-calorie serving of almonds, or about a handful, is an excellent source of vitamin E and magnesium, and a good source of fiber. It also offers heart-healthy monounsaturated fat, protein, potassium, calcium, phosphorous and iron.
Eating a daily handful of almonds a day may lower LDL, or "bad" cholesterol. In a clinical trial published in the American Heart Association's journal Circulation, men and women who ate one daily ounce of almonds for a month lowered their LDL cholesterol by 4.4 percent. Those who ate two daily ounces of almonds lowered their LDL cholesterol even more – by 9.4 percent – and maintained their weight.
Eating almonds may help maintain or even lose weight. A 2003 study in the International Journal of Obesity found that adding a daily ration of almonds to a low-calorie diet enhanced weight loss, as well as significantly improved risk factors associated with heart disease, when compared to a low-fat, low-calorie diet. Researchers cited almonds' heart-healthy monounsaturated fat as being very satiating, helping satisfy the appetite and prevent patients from overeating.

The last letter in the lot is C.
Here is the word Crystal.
I have a collection of crystals I cherish.
I like crystals because of its beauty of transparency and shining. I get a clean feeling when I look at a crystal
In chemistry a crystal is a solid made of atoms, molecules, or ions are packed in a regularly ordered, repeating pattern extending in all three spatial dimensions.
The word crystal originates from the Greek word "Krystallos" meaning clear ice, as it was thought to be an especially solid form of water. The word once referred particularly to quartz, or "rock crystal".
This pic was beyond my imagination !!
Here is a pic and its narration of something sensational that is difficult to believe.


This is the crystal cave of giants found in the Naica Mine, Chihuahua, Mexico. Those are Selenite crystals (gypsum) and are the largest crystals ever discovered.
They were 1000 feet down in a limestone host rock where they are mining for lead, zinc and silver.
These crystals were formed by hydrothermal fluids emanating from the magma chambers below. The miners had to drill through the Naica fault, that they were worried would flood the mine… and this is what they discovered.
Current music : Angel by Shaggy.