First of all, I want to thank
lady luxie
for another award extended to me in her blog. Thank you, luxie !
You are
Kareem !
( generous in Arabic) Thank you again !
I was supposed to post this long back as it happened almost a month ago.
The accommodation camp for my trainees has been temporarily shifted after the big fire in the company camp, and it was mandatory that I have to sign a register in the rented accommodation premises every day after verifying the trainee's presence in the camp. The area was just a few kilometres located in middle of a small village that has accommodation facilities for different contracting companies.
That day while returning from inspection, I saw that sad scene…a
jennet
(a female donkey) was knocked down by a passing truck and its young
foal
(baby donkey) was standing guard beside in the stark rain. It was sniffing around it's mom and licking as if asking her to get up and feed her.
I was so sorry, as I saw that the foal was so very small and marks of tears were seen on both sides of its face.
I felt depressed at the sight, but I had to go on for my daily duties with out any further thinking that face.
I went through the same road the third day and the jennet and foal were still there.
The foal was in a pathetic condition being in the rain and it looked so week. The hair on its body was wet and dripping and the foal was shivering with cold. Its belly was seen empty and hollow, it was about to fall at any time and perish.
It was drizzling as I got down from my truck. I put on my coat and approached the small Sudanese shop owner nearby
"Salaam"
I said politely.
He knew me from my frequent trips towards the area and he asked me what help I need. I asked him why he doesn't ask the
'Baladeeya'
(Municipality) the remove the carcass of the jennet and give the foal a shelter.
He said that no body care about a donkey and as usual, the body is for the Hawks and scavenger Eagles. He also explained that the foal refused water and food though he offered twice and added that it never left the body even for a second.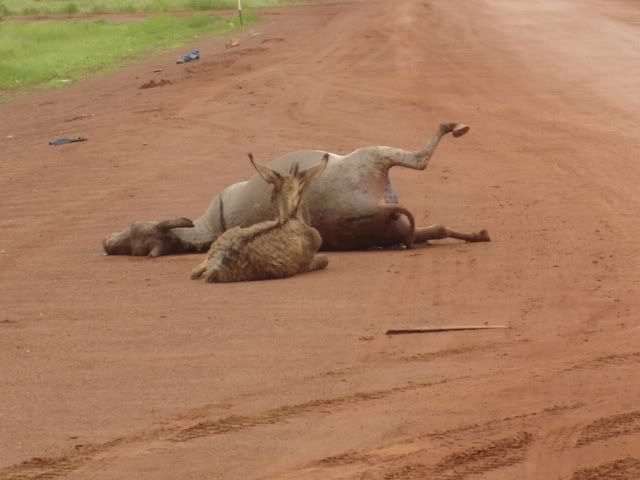 I explained that it is a health hazard but he doesn't seem to understand.
So instead, I asked him where the
Baladeeya
office is and he showed me.
I took another look at the shivering foal and got in my truck to proceed to
Baladeeya
.
The man sitting behind the desk was reading something and he didn't even sense my presence.
I cleared my throat and wished him
"Salaam Alaikum"

He answered
"Wa Alaikum Salaam"
with out even caring to look up.
I cleared my throat again to make him look up... and this time he did look.
He looked at my official peacock blue uniform with the emblem my company and at my ID card hanging on my chest with the company embossed logo.
That was enough and he was on his feet asking excuse for not noticing me. His bored look gave way to courtesy and attention… Our company pays his salary. LOL
I explained about the donkey being dead for three days lying on the road and causing a health problem. He listened patiently but don't see my point about the health hazard.
Finally he agreed that he will make arrangements to remove the carcass and called up a bunch of Khaki clad workers with crisp orders.
I thanked him and went next to the Rafiq's provision store where I normally purchase my nick-knacks.
I had helped him once or twice when his children got sick that got them special attention from our company Doctors and another time when his son made an accident and I used my truck as an ambulance.
I asked him if he can take care of the foal for me as I knew that he owns a few donkeys that he uses for transporting his goods. At least the foal will be well fed.
He said that he will send his son immediately to fetch the foal and I knew he would take care.
Even after almost a month, I remember the face of the foal, standing guard to its mother expecting her to get up any time and fondly licking the baby.
Mom's love has no match even if it is with animals.
When I started writing this journal, I had no idea what a female donkey or a baby donkey is called as…but now you see just a click in msn search and I had learned something I didn't knew before.
Current music…Elton John on his Piano