This picture was taken some time back.
Whenever I see this picture, I remember two different topics.
The first one is the name of the subject, which is
"tender coconuts"
and it brings me a real unique feeling of affection because of the word "tender" and eventually to tenderness.
It also takes me to the past…where a lot of faces passing through my mind, like a movie on slow motion…my child hood included.
If you have ever tasted a tender coconut, I need not say another word about it.
I would say that it tasted to me like a mom's love.
The second topic that comes to me is that of a young blogger from Kerala in India with a blog name that resembles a coconut.
He is known as
nariyal chutney
which means chutney made with coconut. Nariyal is coconut in Hindi dialect.
Coconut chutney is a very famous south Indian delicacy.
Though I don't know him in person, some how I like him. He was in my blog on August 15th after a long gap that made me remember this picture.
As
keram
means coconut in
Keralite
language, it is evident that the state of Kerala got the name
Keralam
or
Kerala
from its abundance in growing coconuts.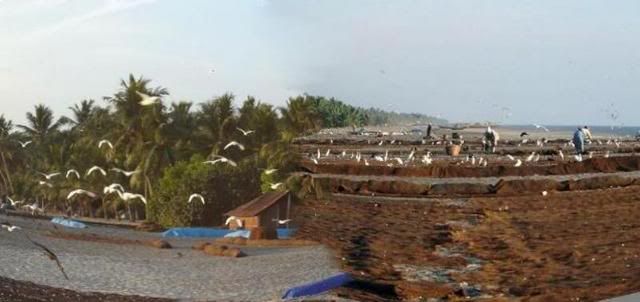 In this second picture, I tried to stitch two different photos together that is of the coconut trees and a beach both from Purakkad, a fishing village in Kerala.
If you want to see another common variety of coconut, click
here
I know what you are going to say now NC, but listen, both the coconut pictures are not taken from Kerala.
******
Current music: Ain't nobody...Diana King.