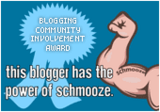 Listen please !
This is not my show off muscle that you see here !!
I am surprised and out of speach about
capcity
who has graced me with an award of schmooze... which I understand means, an ability to make connections.
First of all let me thank
capcity
for choosing me as one among the five awarded. I am flattered with this ardent unexpected attention and kindness.
Though I don't know her very well, I find this sista' a woman of immense inner strength and I would say that she is a born leader.
Thank you, Cap !
The rule also says that I have to pass the award to five others which is a very testing job for me.
In fact, I don't want to do it, but then, I have to do it one way or other.
Now the difficult part of crowning another five individuals very very difficult.
So I am doing the easiest thing possible for me...choose five popular blogers that comes to my mind.









Please check them out with out fail and you will see that they deserve it.