Saturday was a fine sunny day until the early noon hours.
Then the clouds all of a sudden started to roll on like a crazy spinning wheel. They came from all over sky to join this exodus of a virtual vortex in the sky, darkening and covering the whole area like a black canopy
I reached before the rain and stood watching the clouds before entering by office with out putting down my back pack. As usual, where ever I go I carry my backpack.
It is a bit heavy, considering the not so small laptop and the camera I carry daily.

Haven't you seen it here before? I have posted the picture some time ago.
Oh, come on! It is ridiculous if you say u can't remember it. Well, not every one is smarter than me. LOL

If you haven't seen it before, you can see it here.

Let me continue now.
I was standing in the balcony with this special second skin of mine… my one and only back- pack, the hard & cool voice of my friend and my laundryman Hamza, jolted me

"Hi jac" the large smiling man with lot off sparkling white teeth, beamed at me.
"Hi hamza" I answered shaking his hand but not averting my eyes from the sky.

"Tell me Jac, what is in your damn bag" he tried to frisk and patter my bag.

"I haven't seen you with out it" he was now taking a dig at me "are you keeping all your savings here… may be in diamonds in this ? hahahahaha" he continued in his gruff voice.
"I am sure that you sleep with it too man!" he is now laughing loud.
I smiled looking at the clouds but not bothering to answer.
"Or else tell me really what you have in this" he was not going to leave me alone to watch the clouds.
So I thought I will answer him and get rid of him.

Before turning around and facing him, I tried to remember what was inside the bag.

My laptop, my camera and its lenses, my mobile charger and then I stopped….I didn't know what else was there.

I thought it as ridiculous that I can't remember what was in my own bag.
I turned around to tell him that I don't know what is inside, and saw him walking away saying "Jac is day dreaming, Jac is day dreaming"

"Day dreaming… my foot" I swore at him under my breath.

I forgot all about the incident since I was busy correcting my trainee's filled up task answer papers at my desk.
Back in my room at 7 PM, while I was placing the bag on top of the fridge, I remembered Hamza's question about the contents of the bag.
With out changing my coverall, I cleaned my computer table that I normally use doing something with my laptop and empted my bag taking out all, one by one.

Take a look!
Gosh! I didn't know that I carry so many things every day on my shoulder.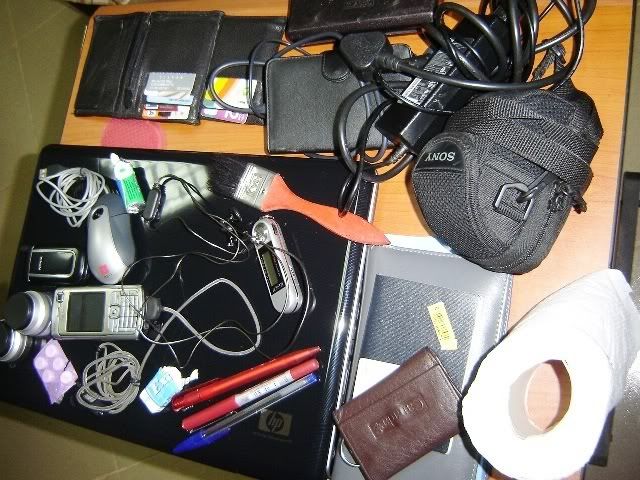 1 HP Pavilion 17'' lap top.
2 My camera.
3 Two lenses for the camera.
4 Two mobile phones, one with ear phone .
5 An mp3 player with earphones.
6 A mouse for the laptop, in case if I needed one.
7 My wallet .
8 My travel pouch with next vacation ticket, work permit and residence permit.
9 My 2 passports.
10 Pair of spare batteries for the camera.
11 A can of lens cleaner.
12 My leather key case.
13 My chap stick for my lips if it gets dry.
14 A tube of glue.
15 A roll of toilet tissue. (See I am Mr Clean ) .
16 A flash memory stick.
17 A Bluetooth adapter .
18 Half rapper polo mint.
19 Half used pack of Wrigley's chewing gum.
20 17 office clips.
21 3 pens.
22 Half strip of pain killers.
23 One mobile phone charger .
24 My laptop charger.
25 An external hard disk of 160 Giga.
26 A brush to clean dust from laptop key board.
27 A comb (I don't know why I keep it, I am bald :D)
28 My sunglasses.
29 A mini tube of hand lotion.
30 A set of ear plugs.
31 My driving license.
32 A mobile tooth brush( I don't know how it came in my bag)

If you carry a bag like mine or a hand bag or even a ladies bag, then check it out and see what an amazing array of small arms you are carrying !!!!

You think I am joking?

You do it now and see for yourself.

Come on lets do it now!!!!
xxxxxxxxxxxxxxxxxxxxxxxx
For the past 2-3 months our company server has been experimenting with softwares that prevents people from misusing official internet for downloading and listening music. It has affected my uploading of music in the site and to play. But I have ways to tunnel in dicreetly. But I can't hear any music playing in my blog. I get the feed back only from you.
Inserted music is Elton John singing "Dont let the sun go down on me"