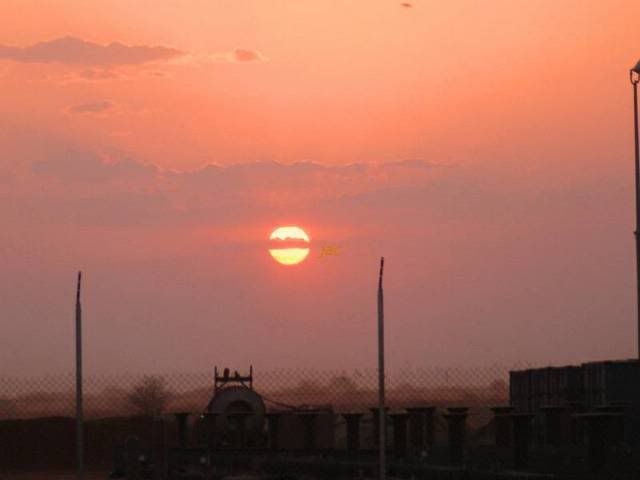 In life we strongly believe in many things.
As time goes by, one day it happens that you have to correct some of them.
Reality conquers your mind and it quenches the mild revolts that forms… mutinies are dealt and defeated by loyal soldiers of the soul.
My soul is no exception.
I had to bury many of my wishes just because it can't be achieved with out shedding a drop of blood or a painful drop of tear.
Both I can't stand if I see it.
Life is not what you wish it to be, but is about wishing only what life offers you.
The quest to explore diminishes every day.
Like a squeeze of lemon in salads… like a pinch of salt in the soup…a dash of gleam in my eyes remain, just to remind me of the glint I preserved there for so long.
This picture is taken from my balcony at the back of my office, from where I have taken hundreds of pics of sunsets with out a shadow obscuring my view.
But you see, this one will be the last that I will have with out something marring the beautiful sight.
Already you can see that construction equipment that had set in the background and a long fence separates me now from the buildings, as if someone is trying to keep me away from nature by force.
In place of the basketball court that we had cherished, are now six white, neatly built housing blocks where most of my trainees will stay after their training, when they will be absorbed as regular staff.
We never know what tomorrow brings to all of us, so with out any delay I share it with you.
I may not get another chance to shoot a sunset from the same place.