The year that has passed was like a bullet train.
It zoomed up and went away, with out giving me a chance to share what was happening here at the end of the year,
Or
Was it me who went off leaving my blog like a flash?
Hmmmm...Both are correct, with the same old question, who ?…the chicken or the egg, which one?
Now as I am already here and kicking, we need to put the past in a bundle, tie it up and throw in the sea.
But there are incidents that should be shared in between. I think that I will condense the matter in two or thee posts… some thing like, a post a day to save your time.
Will you come to read or should I stop my blah, blah ???
Giving due consideration to my ailing leg, I have come to a decision that from now on, I won't be posting on my vacations. I think that it will give me enough time to relax, specially as I walk now like a crippled dog.
I promised
starrynights
that I will come and visit her on Christmas Eve as Santa, and to watch one with a limp.
I really tried to be Santa, I even begged.
None would give me chance to be Santa.
Which kid would have fun with a crippled limping Santa ?
Finally, miserably I had to give up my dream of being a Santa.
Poor starrynight !! she must be relieved now !
With her paining back, he no more have to waste her precious time with a crippled Santa to serve cake and cookies. hehehehe
All of you know her I am sure, if not check her link please ! You won't be sorry.
Back to the story again !!!
First half of 2006 has gone very sour, ending with fatalities of two of my trainees and 11 of my friends perishing in a tragic road accident.
I have shared it with you all and the sad memories are still in my mind.
Then the mid term went well with out any tragedies.
But the end of the year, the situation went grave again with many close encounters with the fate around here.
Let me go through just the month of December, when at one stage, my life also was threatened by fate.
Let me narrate it you one by one, with some illustrations.
It started with the trip to unity state on a training visit, to the field through treacherous roads made of mud and sand.
Going towards was easier, as it was morning and dust was about go up and the roads were some how visible.
It all happened on my way back.
It was Dec 3rd late afternoon, when there are strong winds which force the dust to fly upwards.
December was the season nomadic shepherds, cattle and sheep. I saw them moving in line every where.
The first thing they do when they pass the grass fields is to put fire to the dry desiccated grass, which at an instant goes up in flames so fast, that poor reptiles get no chance at all to escape and you can see the eagles and crows going around having the relish on their half burned prey.
A few wild animals escape due to its sheer speed. The smoke produced by the burning of grass both wet and dry, spreads around to near by roads where it threatens motoring in the roads difficult. The smoke suddenly covers motorists by the rapid change of the direction of the wind, causing accidents.
I asked one of the shepherds and he said that it is for the strong growth of grass in the next season.
I landed in one of this smoke screen and flames and escaped unhurt just short of scorching me live.
I saw the burning grass just in front of my pick-up, while I was taking the first picture you see below, of the fire spreading up.
In a flash, the fire and smoke reached me.
I managed to stop the car, open the door and run for my life with my crippled leg to the safer side of the road.
Watch these pics please. This was on 3rd of Dec.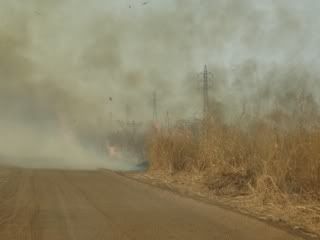 This above picture was taken after my escape from the smoke and fire. My pick-up is behind the smoke screen and I have taken this picture from my safer side of the road.
Last two snaps are of my pick-up with minor paint damage, after the fire and smoke passed away.
You can see fresh smoke and ash rising up very close to the pick-up while in the background, the fire spreading far.