This is my longest post I ever did in one stretch and you have to excuse me for that. You see, I am not going to give you anything for a month starting from tomorrow.
A young woman tagged me for my 8 random habits/facts.
I have never seen nor heard her but I know that she comes to read my blog.
I don't take up tags the normal way. I try to make it into a story by spinning facts like a spider…and it takes time.
Time is that I don't have here now.
In addition, I am leaving on my vacation for another 28 days during which I don't intend to write or read blogs.
It will be sort of hibernation this time. I will just close my senses so tight, emotions bottled, dreams and wishes crushed, like a pearl hurdled in a shell.
I hope that I can survive.
So I come back to the person who tagged me.
She is kind to me as she accepted my terms on the rules. I can't write eight facts/habits from my life with such short time. So I will do as much as I can for you and I won't tag any, as usual.
It is a story that I came in to contact with this person.
One day I saw her in my blog with a comment. I became curious and peeped in her blog… in her pages I saw a lot of wisdom.
From there I learned that she is one of the persons who cherish humanity.
I believe that humanity is not completely lost and I believe in this quote by
Mahatma Gandhi.

"You must not loose faith in humanity. Humanity is an ocean; if few drops of ocean is dirty, the whole ocean doesn't become dirty"
For I consider humanity an asset to people in this world where the new generation lack a lot of that.
So in my life, I consider
humanity
as
numero uno
(number one) factor
So now I come back again to person who tagged me.
Her name is
samrina
and she is from Pakistan. I tried to find out the meaning of her name in Arabic…but in vein.
Well, she already stated in her blog that she is also called as Samira (Sameera) which in Arabic means companion. I am sure that with the humanity and wisdom and faith she has, she will be more than a companion to her partner. Let future fill up the gap.
Samrina wants me to write 8 things about my habits/facts
Read this from her post about her interests
"I love to write, though initially I started writing poetries"

So we both have something in common… I love poetry so does this girl.
Some times I too write poems but I am not yet sure, if those can be called as poems.
For me... and
Thomas Gray
"Poetry is thoughts that breathe and words that burn"
I don't really love poems by
Emily Dickenson
but for 'some reason' these lines from her… I will always remember.
If I can stop one heart from breaking,
I shall not live in vain;
If I can ease one life the aching,
Or cool one pain,
Or help one fainting robin
Unto his nest again,
I shall not live in vain.

Now coming back to the tag, I am sort of a
teacher
by my present job. You can call me an Engineer turned teacher with a PG accreditation to teach.
I am called as a trainer in Oil Fields. I teach young National Engineers what they forgot to learn in universities. I take then on a two year long rigorous 'On job' training in the oilfields.
My company believes that
"Good teachers are costly but bad teachers cost more"~ Bob Talbert
So they hired me.
My
motto
about my profession is best expressed by
Khalil Gibran
"A teacher, who is indeed wise, does not bid you to enter his wisdom but rather leads you to the threshold of your mind"
That is what I do.
I teach them, and in turn I learn many things from and about them.
I learn about their family, habits, weaknesses, traditions, last but not least, their love.
I am their partner in sorrows happiness's, virtually a partner in crimes too. I know when their faces are sad and in five minutes, the reason too.
Oh No, I am going again off track.
This is my desk.
The pile of answer papers littered my table hither-wither.
My two darling miniature speakers were transferred underground, beneath my table to allow space for the files which contains the special bond papers printed in different colours.
The colours now made me puke, as I am getting exhausted with sitting and signing and verifying papers on every stage of their training, now to be sorted in individual files.
I thought I need a lovely secretary just to cheer me up every morning with a smile and a cup of tea, when I am exhausted.
They say it is not allowed…they say it is against the protocol to employ woman on that job in the field.
They say they can give me an old lady if I insist. LOL
They say it with a lewd smile on their lips.
They don't know anything about woman and womanhood.
For them, woman should only be in the kitchen.
For them, it is better if the woman is illiterate.
For them, it is better if they don't breathe fresh air.
For them, they are just an instrument of pleasure.
They don't know of any other relation between a man and woman.
Oh Jesus! Where have I gone with my words and thoughts?
The matter is plain, that I needed to be out in the open… I need fresh air.
I got up from my desk, locked the door, stretched my muscles and went out on the blacony whistling an old Nat king Cole Number
The mild breeze caressed the coarse hairs on my exposed forearms and I felt pleasantly cold.
I looked beyond the walkway to the main office, towards the groomed guava trees, to the large may flower tree and stopped at the large thick greenish tree near the main security office.
I thought that the tree looked so beautiful.
What is so beautiful about that useless tree?
Listen to
Martin Luther king
"God writes the Gospel not only in the Bible alone, but on trees and flowers and clouds and stars"

So you see; I love
nature
.
I love that tree, which for ordinary person is no beauty. It is full of those long beans, like daggers that contain its seeds.
I neither know the name of the tree or its beans but I call that the dagger beans because of its shape and it is coloured shining parrot green.
If it is pleasant colour that attracts me now, in summer it is the sizzling sound that it produces when the mild afternoon wind blows. I feel that it as music of the nature.
Again I need to say, that if you see that you may not see any beauty in it.
As
Confucius
once said
" everything has beauty, but not every one sees it"
Take a look.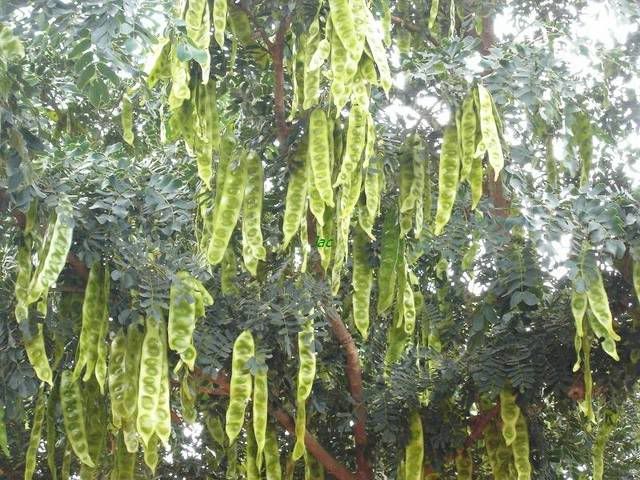 Don't you see the beauty ?
Don't you see beauty in the colour of that useless dagger beans ?
Oh ! God I am forgetting what I was planning to write.
I am still in the balcony of my office with a cold wind singing strange music
I stood watching there a moment and turned to my little chirping friends nearby.
A robin on the recess between the metallic supports and roofing sheets gave me an unpleasant look. I wondered why?
Sure it knows me well, as I feed them plenty of biscuits from my catering supply, as I don't relish biscuits.
Another birdie now loomed up between the sheets moving beside him, speaking their language non stop.
Now I saw that he has become chirpy and displayed me his pleasure. I saw that he was really proud now sitting near her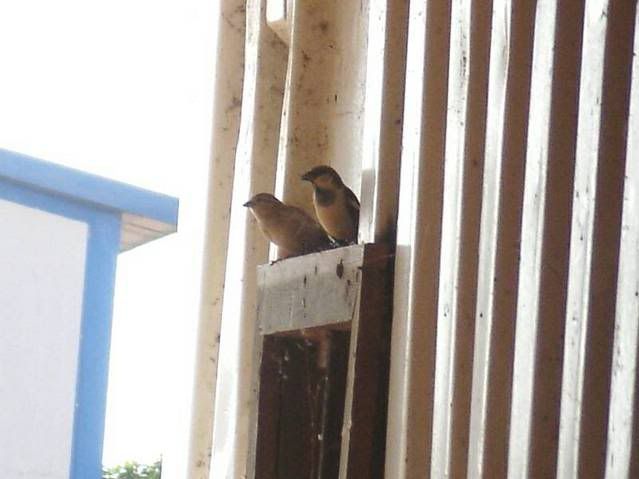 When I came in here the first time before three years, I tried to decipher their chirping language and I think I was able to understand a bit. But now I lost it or, may be they don't talk for me or they don't want to me to hear.
I remember the howling sounds of the night birds when I was in my Mom's house, lying in the large bed with her, as she showed me how to answer the call in the same way as they do. She could do the talking with any pets or animals we had.
She used to talk with them as soothingly as she talks to me and they seemed to react spontaneously.
She even taught me to talk to the brown stallion that William bought from the auctions especially for Dad.
It was a dooms day for her when it broke its hind leg during riding practice and writhed in pain until my Mom insisted on drugging him for a day.
She even went out with her maid in the middle of the night to the stable…where it was resting on slings.
I looked again at the Robins, the laughing pairs. I was listening intently but was unable to catch what they were chirping.
I pointed my thumb and the middle finger at the male Robin and said
"Ahoy ! Damn you, if you don't want to chirp with me"

They were laughing and cooing, and that was music to me.
Good , that I remembered music now… as I am born with music in my ears.
If you want to understand the meaning of what I said, then you need to understand a bit of Africa.
We are a race that has music running through our veins.
We have songs and music when one is born and when one dies.
We dance at birth and death. We even have songs and dances when you need too be sad. Being a
'kappiri
(African mix)
brada'
… I love
music.

I love music
irrespective of the language, provided that it makes me close my eyes and relax…or makes me jump out of my bed and move around the room humming and moving with rhythmic steps.
I am like
Buffy Sainte Maria
who said that
"Music been my play mate, my lover and my crying towel"

Oh well, its time for me to go in now or else I wont finish the papers it 2 days before the trainees leave.
I forgot to tell you that I love
traveling.

Every place I visit is an experience I treasure. In fact I am leaving for a voyage tomorrow. See. I am ready with what I have.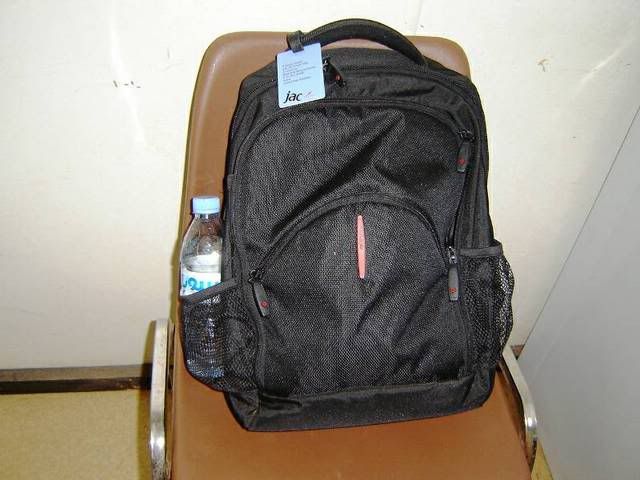 As
good by is the saddest word
, it is not easy for me to sing good bye…..and more over I don't sing well.
I will let
Celin Dion
to do that.
Listen to her sad goodbye. That's my good bye to you.