I have a very moderate office and my two desks are even more moderate.
I can't complain, as I am not the General Manager of the company.
I am just a trainer who does teach the new generation of National Engineers.
The trainees call me
'Usthad' (Sir)
or Mr. Jac, and to others I am a
muda-ras (teacher)
or sometimes plain
'mohandis jac' (Engineer jac)
as is the Arabic custom.
One way or other I don't care what they call me. I teach damn well and I am proud of it. ('Excuse my language, ahem !)
They give me a nice salary, a cabin not very moderate but with two desks, amenities, provide top class food in grade1 officers diner, 24x7 internet(slowest LAN in the whole world) free laundry, top class accommodation single( sorry, no woman allowed)
So you see, I have nothing to complain.
Give me a reason and I will.
In return I teach the new Engineers how to be self sufficient… how to run an oil facility with out problems.
Isn't that good enough ?
Normally I am the last to leave the office and I leave my office in the late night locking the doors myself.
Yesterday too before locking all doors, I looked around to see if the AC is off, the power plugs isolated, lights in the balcony.
Nothing abnormal!
No smoky smell?
No body hiding anywhere?
Every thing was clear and I locked and left to my room nearby.
Now it is today.
As usual I am in the office at 5AM.
Switched on the desktop computer, spread my laptop on the side table and switched it on too. I am waiting for both the computers to load…and then I heard the sound of flutters.
I am sure that I locked the doors, so it can't be bats.
There fluttering continued out side my cabin door. I got up and opened the door.
Flut…flut… flut…
The thing was inside my door before I could even wink.
Beside the fluorescent lights inside my office, fluttering around was a very large butterfly!!!!
I looked with interest and with keenness, my curiosity showed in my look
It was not a normal night butterfly and it was not very colorful too, but it has lovely designs showing on its wings and I remembered that this is not the season of butterflies.
Now, after so much fluttering, I saw that it was looking for a place to rest and then, it sat on the paper punch right on top of my cup board and I could see it looking at me with its large bulged eyes and rubbing its sensors.
I wanted to tell it that I am no honey and there are no flowers here.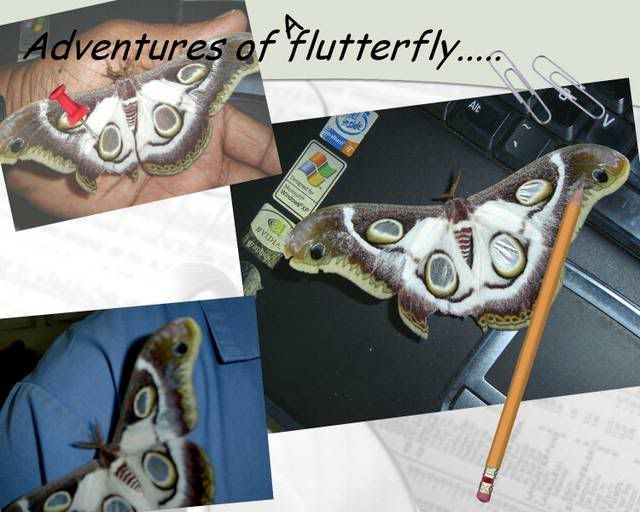 As if guessing my thoughts, it started fluttering again here are there with out aim and finally landed on my laptop.
Now I had a closer look. It is quite large…to be precise, as large as my palm.
But I also noticed that it has lost a small piece of its wing…probably a bird tried to attack and it escaped death.
I took the camera out of my case slowly and checked the charge. Shot a pic with its wings at full span sitting on my laptop.
As if it was waiting for the pic to be taken, it fluttered from my lap to my shoulder, and from there landed right on my palm…stayed there put; won't go away at all. LOL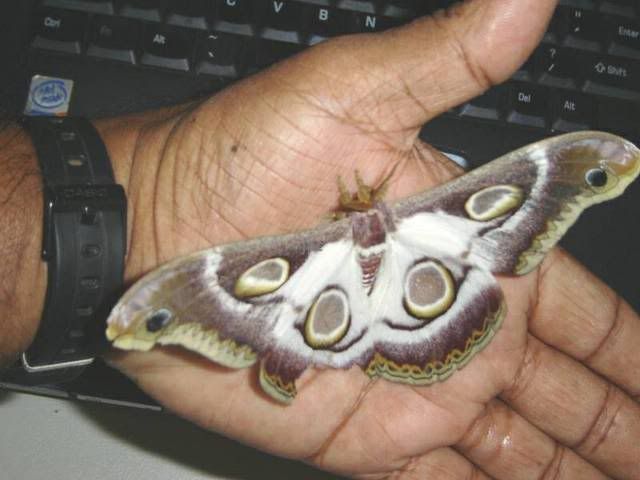 I think that it liked the moist warmness of my palm.
I realised now that if it stayed there in the AC cabin, it may loose the ability to fly easily.
I took the soft silk creature reverently outside my office.
I raised my hand and there... it was gone fluttering to freedom……
************
Current music: MLTR:- album Blue Night